Its not all about the music at Between The Trees, we are also privileged and excited to announce several wonderful speakers and workshops. We have poets (Rhian Edwards, Jonathan Edwards & Mike Church) presenting in the Seren Circle, films in the Red Barn and astronomy on the dunes. Robert Minhinnick, poet and writer, is showing his acclaimed film "Dairy of The Last Man"
with accompanying live score. This film plots the walk from the mouths of the Rivers Ogwr and Cynfig and explores the author's life and his connection to the local area, its people and it's history.
Bruce Parry's film, "Tawai" (voice from the forest), will also be showing in the Red Barn. It is a documentary which follows the lives of the indigenous, Penam forest people of Borneo. It reflects on their how their struggle for survival is intrinsically linked to nature and how palm oil plantations are threatening their very existence. It also addresses our "need to reconnect with the natural world".
Duncan Ludlow (Natural Resources Wales and Warden for Merthyr Mawr Warren) will be conducting morning natural walks through the forest and onto the dunes, whist Tommy Carr (Mindful Walks) will be leading mindfulness forest walks. Mark Steer (Glamorgan Fungus Group) will be speaking about the fascinating symbiotic relationship between fungi and trees. Additionally, Alex McCarthy will be telling us all about the butterflies of the area and Matt from Wildwood Ecology will be relating his knowledge of bat species and their habitats.
As well as nature focussed activities, we also have archeology and astronomy talks and workshops. There is no doubt, our ancestors were more in touch with the natural world than we are today, this is evident from their elaborate burial rituals and "rock-art". We have Dewi Bowen and Prof George Nash who will tell us all about our ancient stone and bronze age past. Dr Martin Griffiths (Dark Sky Ambassador, Brecon Beacons National Park) will be taking us on a special interpretation of the night sky with stories from Welsh folklore of the Mabinogion. He will also be running night-time astronomy workshops where you will be able to observe the planets and stars through telescopes.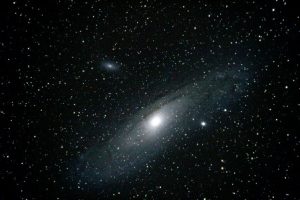 The Andromeda galaxy and satellites (Martin Griffiths)
At the other end of the spectrum, in the Science Tent, Andrew Barratt (Cardiff Metropolitan University) will be leading microscopy workshops looking at plant fertilization and insect pollination and Dr Emma Hayhurst (University of South Wales) will be studying the microbiome of the forest floor. You will have the opportunity to experience hands-on science activities and carry out some of your own experimental biology.
COMING SOON! News about Children's activities, our wonderful art and craft traders and our local food, beer and cider providers.