26th – 28th August 2022
Merthyr Mawr National Nature Reserve
Keeping you safe: 2022 Coronavirus precautions.
Our top priority this year, as it is every year, is keeping everybody safe.We intend to reduce the capacity of the festival and will be following Government guidelines concerning social distancing, the wearing of face coverings, hand-sanitising and restricted capacity in indoor facilities such as bar and shower areas.
The good news is that the festival site is safer than most environments, as it has plenty of outdoor space, with greater airflow and UV light. There will be increased numbers of toilets, more intensive cleaning regimes and a booking system for showers. We will ensure adequate spacing are allotted to camping pitches and we will intend to reduce bottle necks and queuing. The specific details of these of these control measures and interventions will be emailing out to you well in advance of the festival date.
1. Getting Here
ADDRESS: Candleston Castle Campsite, Merthyr Mawr, Rd, Bridgend, South Wales, CF32 0LS.
Follow the signs to the festival, through Merthyr Mawr village and the main General Car Park will on your right hand side, where you will be directed to a parking place (see car parking later).
Transport to Between The Trees: There are regular buses and trains to Bridgend, from the station take a short taxi ride to the festival site. Please note, due to the lack of mobile phone reception on site, remember to pre-book your return taxi journey to Bridgend.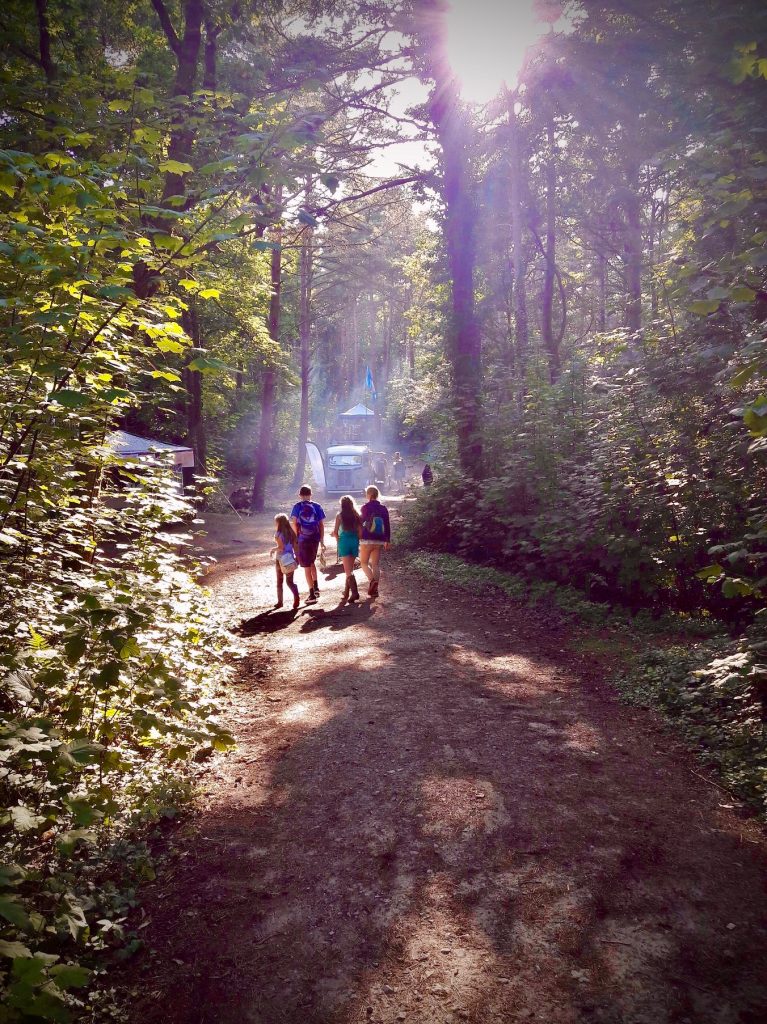 2. Tickets & Timings
We use an E-ticketing system and you will NOT receive a paper ticket.
A confirmation purchase email will be sent to you when you purchase your ticket/s, PLEASE PRINT THIS OUT or take a screen shot AND BRING IT WITH YOU. On arrival, please exchange your E-ticket for a wrist band at the box office.
ARRIVAL Times:
The Festival site does not open to the public until 13:00 Friday. However, we have arranged staggered arrival times to make arrival and check-in easier to manage. Please try to arrive by the following times if possible;
Campervans from 10:30 Friday*
General Camping from 12:00 Friday
Forest Camping from 13::00 Friday
Family Camping from 12:00Friday
Glampers from 13:00 Friday
Day Visitors from 13:00 Friday and from 10:30 Saturday and Sunday.
* If you have a self-contained live-in vehicle or campervan you can arrive on the Thursday evening from 17:00.
Festival times:
Friday: 13:00pm to 24:00 midnight
Saturday: 10:00am to 24:00 midnight
Sunday: 10:00am to 24:00 midnight
DEPARTURE Time:
You MUST vacate the site by 11:00am on Monday.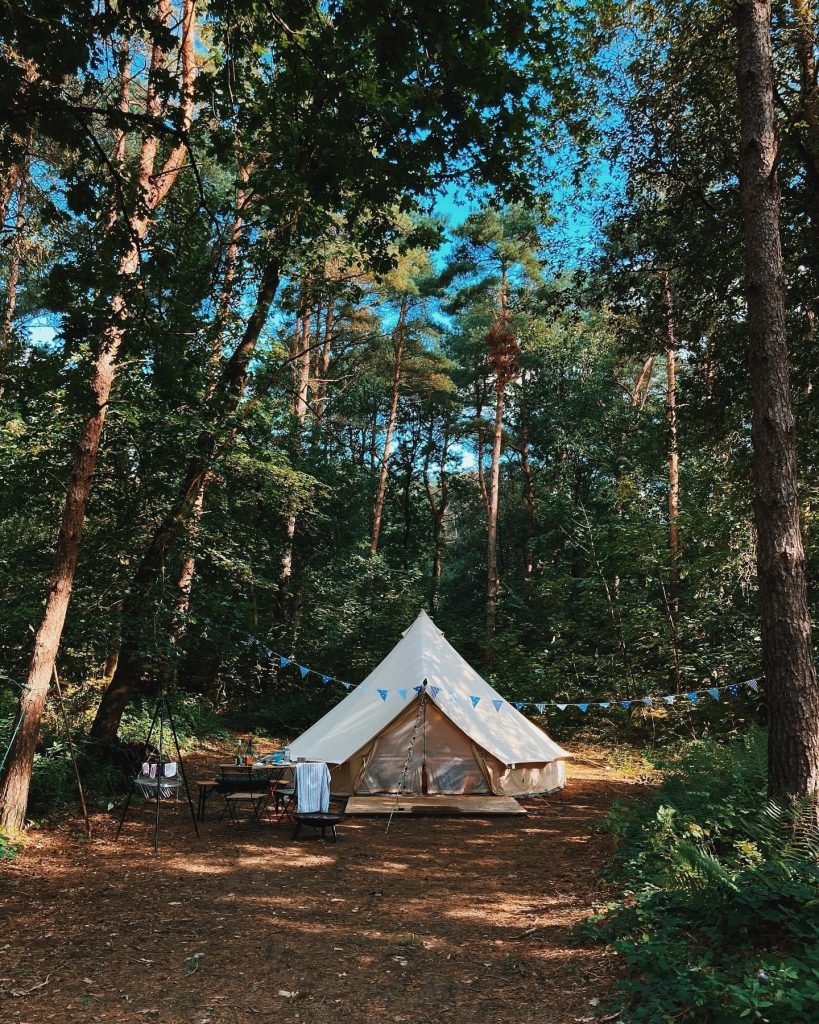 3. CAMPING & LIVE-IN VEHICLE INFO
"QUIET AT NIGHT". This might seem a bit unusual, but we have a "Quiet at night" policy, which means no amplified music or excessive noise after midnight in the main festival area and camping areas. This allows festival goers and the forest time to relax and restore.
A) Live-in vehicles
There is a designated campervan field beyond the General Car Park, with a pleasant 600m woodland walk to the main festival site.
There are no power hook-ups and there is a short walk to the water tap, so please bring a water carrier.
There are several nearby porta-loos and a waste disposal point. NB The main toilet block and showers are at the main festival site.
Please try to arrive early on the Friday, preferably from 10:30am. If you have a self-contained live-in vehicle or campervan you can arrive on the Thursday evening from 17:00.
The access road to the festival is narrow with passing places. If you think your campervan is on the large side, then please email andrew@betweenthetrees.co.uk for advice.
Strictly NO caravans are allowed.
B) Camping
Please bring a tent that is of a suitable size for your party. The maximum camping pitch for a family tent (4 person) is about 5m x 5m (25sqm) (including guy ropes). If your tent's footprint is bigger than 25sqm, please pay the extra-large tent surcharge when you book your ticket.
Camping is divided into 4 zones.
General Camping is outside the woodland in a field adjacent to the general car park.
Forest Camping is inside the woodland in a defined area marked by posts. This is limited to 100 pitches and there is a 600m walk from the general car park to your pitch. Wheelbarrows will be available to help transfer your camping-gear or alternatively bring your own trolley.
Family Camping: Families can camp in any of the camping areas, however there is dedicated family camping area with limited availability for families with children under 4. There is a dedicated car park for this area, with a short walk to your camping pitch.
Glamping: If you have purchased a glamping tent please proceed to the forest entrance car park upon arrival.
NB. No vehicles are allowed in any of the camping areas at any time.
C) TOILETS AND WASHING FACILITIES
In the main central barn structure there are 10 flushing toilets and 2 large washrooms (8 sinks and 4 showers). There will also be numerous porta-loos and drinking water standpipes situated throughout the site.
There are 4 free hot showers and some porta-shower units. Please be considerate and spend no longer than 5 mins showering
IMPORTANT INFORMATION regarding water supply. We are in a forest and water is stored in refillable water tanks. During high peak usage these tanks can run low, so please use the water conservatively and switch taps off after use.
There is a pot washing area near the main central toilet area and also portable washing-up stations.
Please bring your own toilet paper supply as this runs out very quickly.
4. Food & Drink
You are welcome to bring your own food and drink into the campsite. However, please do not bring any glass with you. Instead decant drinks into plastic bottles or use cans.
You can bring your own alcohol to consume in the camping areas, but to comply with our alcohol licence, it is prohibited to bring alcohol into the central festival area. There will be a bag check at the entrance to the festival.
There is a fully licensed bar on-site serving a variety of real ales, ciders, cocktails and wines. Excellent coffee and tea are available to purchase all day.
We use first class local food providers with 5* hygiene ratings serving a variety of top-quality meat-based, vegan, vegetarian and gluten-free options.
5. CAR Parking & PERMITS
All cars are parked in the General Car Park. This is a large field outside the forest area, which is on the right-hand side as you approach the festival site. From this car park, a 600m woodland track leads to the central festival site.
Parking in the forest is restricted to crew, performers and glampers. There is a dedicated family campers car park.
IMPORTANT: you will be emailed your allocated Car Parking Permit a few weeks before the festival. Please print this out (in colour) and display in your car windscreen upon arrival (NB check your spam folder for this email).
Strictly no cars/vehicles are allowed in any of the camping areas at any time.
6. For your safety
CHILD SAFETY
The festival is located in a large, wooded area and parents are advised to supervise children at all times. Warn your children not to pick any wildflowers, touch any mushrooms or harm any wildlife. Lost children should be reported immediately to a steward with a walkie talkie or report to the main barn.
Fire Safety
In case of fire: A fire bell will sound, and stewards will direct you to the nearest fire assembly point. Please refer to the fire safety policy on the forest barn notice board for more information. Please make a note of your nearest fire safety point and water standpipe.
We love campfires; however, we need to restrict them to only BTT managed campfires. IMPORTANT – NO fires, BBQs or fire bowls are allowed anywhere on the site including all camping areas.
Gas cooking equipment is permitted but must be raised off the ground by at least 15cm (6inch) to prevent fires and damage to the grass. Under no circumstances use gas cookers inside your tents or in enclosed spaces.
For safety reasons, please don't use candles or lanterns containing candles in the camping areas.
First AID & Security
We have first aid provision on site day and night. If you require first aid, please make your way to the first aid point near the main central barn. In an emergency, please alert one of the festival stewards who will radio for a first aider to attend.
The safety of our festival goers is always our top priority. We are working together with our security company and the authorities to put in place all necessary measures. However, please don't leave valuables in your tent and please report any lost children and suspicious behaviour immediately to the security team or stewards.
7. WASTE & recycling
This is a beautiful natural woodland, adjacent to a SSSI, therefore, clearing up after yourselves is a must. We have "LEAVE NO TRACE" & "RESPECT" all wildlife policies and we are affiliated to Powerful Thinking, a Think-Tank organisation for greener festivals.
We encourage people to dispose of their own waste by taking it home and recycling it appropriately.
Keep the site clean by picking up ANY litter.
We have a 3-bin system: general, recyclables and food waste. The recyclables are sorted off site by KEIR Waste Management Ltd. If in doubt which bin to use, please ask.
Please bring your own cups, plates and cutlery if you can. There are 2 sinks for washing up. It's not the end of the world if you don't have your crockery, as all our caterers supply fully recyclable plates etc. There will also be multi-use BTT plastic cups for you to purchase at the bar.
Do not leave any camping items etc on the site after the event and we encourage you to repair, reuse or recycle.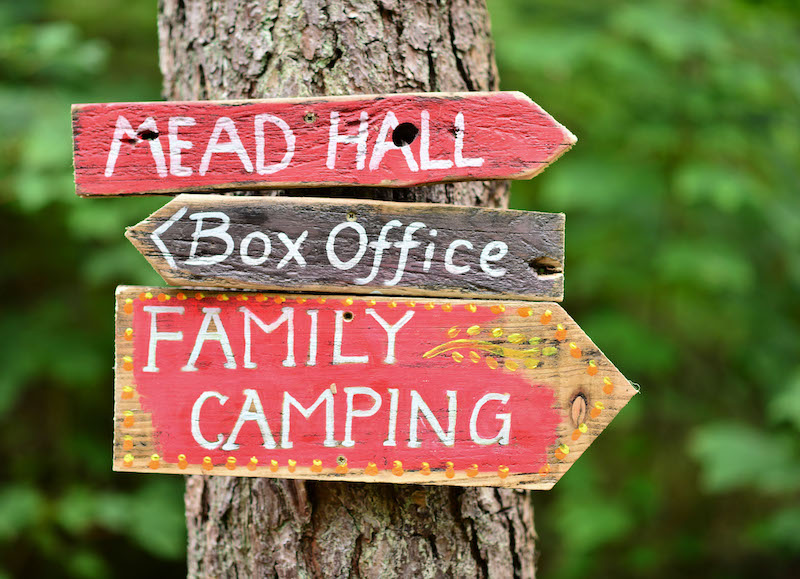 8. General Info
MONEY and mobile phones
We use contactless card machines in the central bar area, but the signal may be unreliable so PLEASE BRING plenty of CASH.
The mobile phone signal is poor, which is part and parcel of your Between The Trees experience. You may be able to get a mobile phone signal near the general car park. Or just leave it behind!
WHAT to bring ☺
Chairs, blankets and picnic sets
Festival clothes and dressing up stuff
Camping cups, plates and cutlery sets
Warm clothes, bedding, hot water bottle– it gets cold at night!
We are next to a sandy beach, so bucket and spade and swim wear.
Water carrier, torch and toilet paper
Trolley for carrying camping gear.
Good shoes as this is a forest so the ground is uneven in places, however as it's a sand-based forest, wellies are not needed, even if it rains, which it won't!
WHAT not to bring ☹
Animals, including dogs (and we love dogs sorry)
Glass bottles.
Fireworks.
Sound systems
BBQs and fire bowls