CONNECTION / CYSYLLTIAD
In a week that saw Between The Trees recognised as one of the top 10 nature-based festivals in the UK, by the Guardian newspaper "Lets Go Wild" article, we thought we would revisit the overriding philosophy and ethos of the Between The Trees, as well as reveal this year's THEME and preview some of the talks, readings and workshops on offer.
Our theme, for this year's festival, is "CONNECTION" or "CYSYLLTIAD" (in Cymraeg/Welsh).
If you've been to the festival before, you will have seen this poem printed on our multi-use cups and T-shirts, and it sums up the ethos of the festival perfectly,
"We often forget that WE ARE NATURE
Nature is not something separate from us,
So, when we say we have lost our connection to nature,
We have lost our connection to ourselves"
Andy Goldsworthy
It's now a well-documented fact that our human connection to nature has declined in the previous decades, and like any "broken" relationship, it's in need of repair and restoration.
We strongly believe that Between The Trees Festival can play a part in this recovery.
From the very moment you arrive at the event, you are transported into a magical woodland, the phone signal dwindles and there is no internet;
"No WiFi – Only Wildlife"
The pandemic has made us realise that "time spent in nature" or "nature connectiveness" is integral to our physical health, mental health and well-being.
Scientific research, including my own, has shown that it is indeed a vital ingredient for a healthy life and some have claimed that without exposure to nature we can suffer from "nature deficiency disorder" – that's a lack of "Vitamin N".
There is no question this phenomenon has coincided with our increased reliance upon technology and we have to do something to redress the balance.
So, what can we do about it? How can we encourage our children to reconnect with forgotten pastimes?
Time in nature is important but it's best to think in terms of "moments and not minutes". Acquiring knowledge about the natural world is useful, but is not a necessary factor in the reconnecting process. Rather, "art-based" engagements such as photography or drawing or a fun activity such as a scavenger hunt may be more impactful. We also feel that it's important to engage all the 5 senses and to look for emotion, beauty, meaning and compassion in things we see and observe.
The natural world itself could be described as a carefully balanced set of eco-systems and interconnecting cycles, made up of a plethora of "connections". For example, recent scientific research has revealed that woodland trees communicate between themselves through the vast fungal networks that surround their roots. Trees can even "sense" danger from pests and "warn" other trees to "up" their defences and send vital nutrients to support other, younger, trees in times of drought.
We can learn a lot by mimicking natures' design in our lives and society. Our ancestors and indigenous tribes recognised these repeated patterns and the balance of nature and we must also acknowledge this and adopt these principles in our modern lives if we are to avoid the adverse effects of climate change, pollution and loss of biodiversity.
So how is our beautiful festival going to make us feel more connected to nature?
In the past, our ancestors would have felt more connected to the land because their very existence depended on it. On the Saturday 27th, we will hear a number of presentations about history, folklore and mystical forest beings & fairies in "Tales from the Land".
Then, the following day we develop this further, bringing themes from modern-day life, "Our connection to the Land" with talks and readings about foraging, tree-planting and climate activism.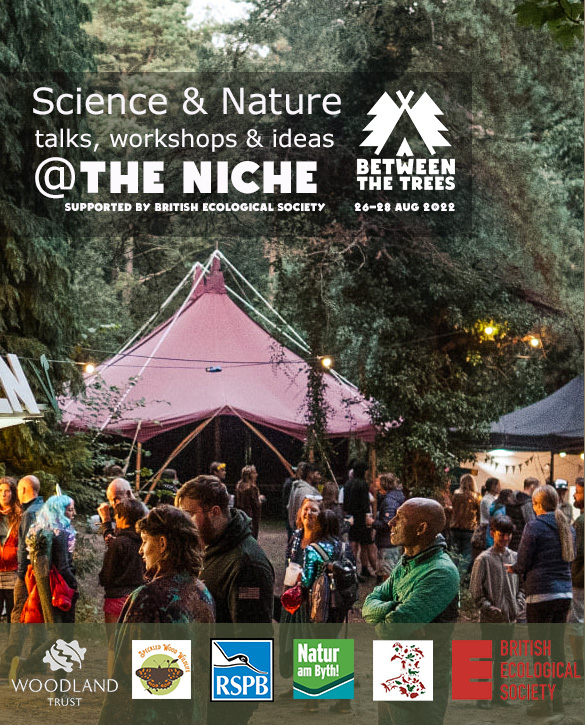 Some very exciting news is that the British Ecological Society have formally recognised Between The Trees as a provider of nature-themed public education and have supported our new dedicated Nature & Science area called "The Niche" with grant funding. We have 8 great speakers who will be presenting talks at "The Niche" stage encompassing various ecological issues and aspects of their research e.g. River pollution and the fate of Otters, coastal wildlife, native bees and the reintroduction of endangered species such as the High Brown Fritillary butterfly.
Excitingly, and for the very first time, we are honoured to host a talk by the RSPB who will be speaking about their origins in eco-activism and their historical links with suffragism.
It's one thing to listen to these amazing talks but how can we become more active in protecting and conserving the environment? Have you heard of "citizen science"? It's a way of getting the public involved and actively helping with conservation work. There will be lots of opportunity for debate and questions and a chance to engage with these organisations and find out how you and your family can get involved in local conservation projects in your area.
We have some great, new Nature-themed workshops in the "Hub-Hyb". You will have the chance to "Meet the Pollinators" in a wonderful hands-on display by Jenny Ogden.
The Awen Trust will be bringing "Songs From The Nest", which focuses around a life-sized nest woven out of willow, which you can actually get inside and have your photo taken. But it's what happens around the "Nest" that is the interesting thing, there will be chance to discuss ideas and hear about how connections have been formed in communities.
To become more connected, we often have to be immersed in an activity, and this year you have the opportunity to role play /dress up! We would love you to get those fairy costumes, wings, crowns, woodland creature masks and head dresses out.
In another another first for us, we have Ballet Cymru performing "DREAM" , a modern day, gender-bending version of "A Mid-Summer Night's Dream" in a woodland, at dusk!
This really gives us the opportunity to create some amazing, mystical, forest creature costumes at the "Dingly Dell" Creative Area. The TEN professional dancers will be on site, running dance workshops in the daytime where you can really get involved and embrace your inner fairy, elf or "Pwca".
We love to see the way in which the both adults and children respond to the unique sand-based environment. Most little ones and a few older ones, quickly realise that it's fine to ditch the shoes, to walk around barefoot, pick up sticks and foliage to adorn themselves, form small adventure groups or tribes and even make natural face paints.
Have fun, take a break from everyday life and don't forget your swimsuit for the Slip 'N Slide!
So at this year's festival we want you to "connect"…
with nature
with others
with yourself..
Next month's TreeTalk will cover the music, craft workshops and food traders -we have some FAB new additions this year!
Other News
TICKETS – Tier 1 prices end 2nd July 2022
"Between the Trees Session"
Saturday 25th June 7pm at Zucco's Juice Bar, Pontypridd.
Featuring the brilliant blues musician "Bella Collins"
Tickets (£7.50 includes first drink and nibbles)