Festivals – the modern day pilgrimage
We hope the message finds you well
We've had a great response to early bird tickets and there are only a few forest camping pitches left, so if you are looking forward to nestling under the trees next summer, then be quick. Early bird tickets will end on December 31st however the instalment payment scheme will continue in the New Year.
Tickets can be found HERE.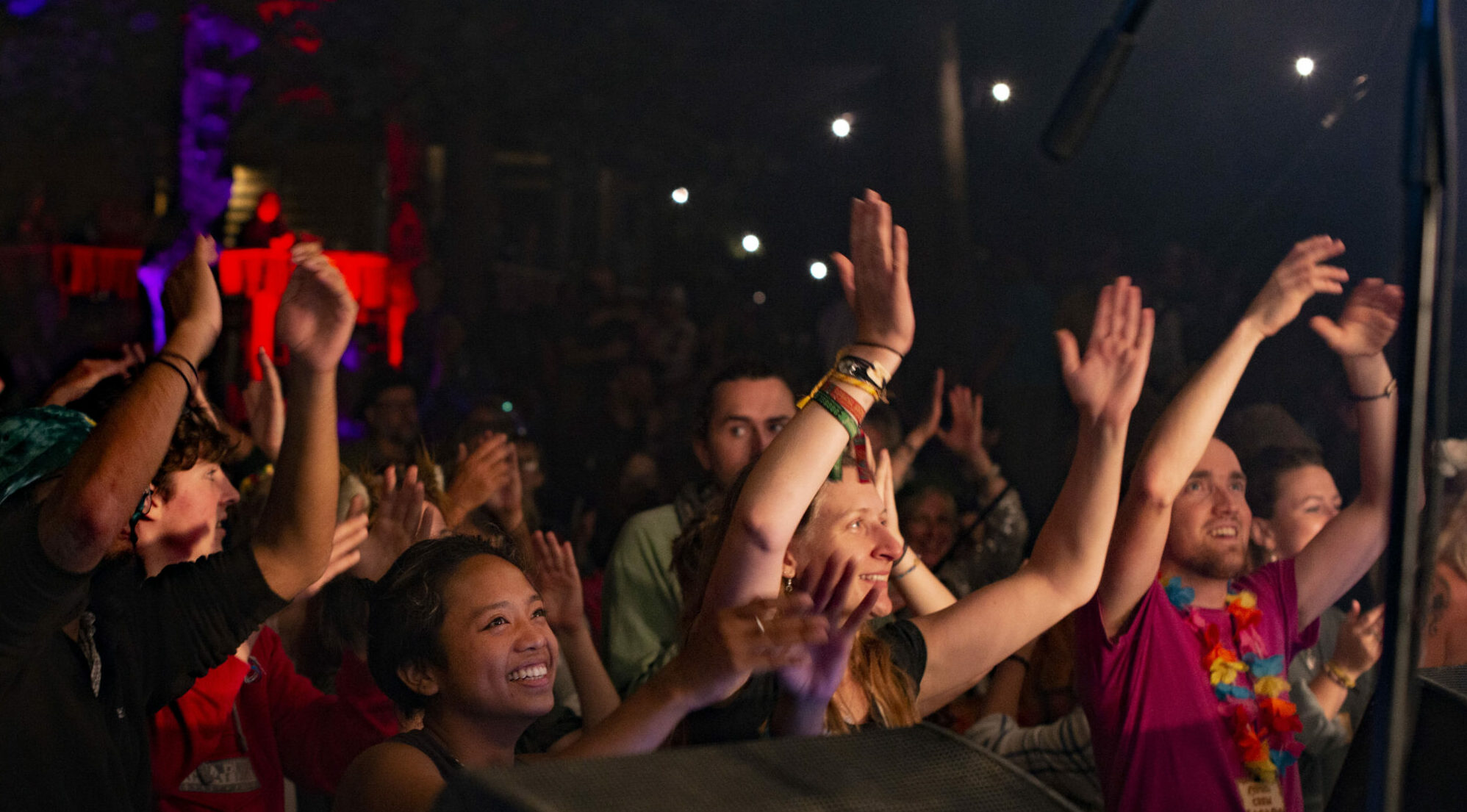 It's a well known saying that "experiences are better than things", so this Christmas have you thought of gifting the experience of Between The Trees to your loved ones and friends and do the environment some good too?. We've had so much lovely feedback over the years, about people's experience and memories of the festival. We believe that events like Between The Trees offer so much more than just music and are also educational, transformational and even spiritual experiences.
Recently, we've been reading two books which have made us think that festivals like BTT may be equivalent to the "modern-day pilgrimage". The first book "Science and Spiritual Practices" by Rupert Sheldrake explores the science behind the instinctive need for humans to include aspects of spiritual practices into their daily lives. These practices include; meditation, the expression of gratitude, rituals (the marking of important life events), communal singing (music and dance) and pilgrimage. Sheldrake goes on to describe the benefits of reconnecting with natural beautiful places and experiencing the positive energy that exists in these special environments, sometimes referred to as "thin places". He further says that "people in a particular state of positive sensory stimulation resonate with those who are in a similar state", he calls this phenomenon "morphic resonance".
The second book is entitled "Return to my Trees" by Matthew Yeomans. This was written during lock down when the author discovered the benefits of reconnecting with the nature on his doorstep. He then expands this experience to take in the culture, history and landscape of the whole of Wales, hence the title of the book, which refers to the Welsh phrase "dod yn ôl at fy nghoed" meaning "to return to a balanced state of mind" but literally means "to return to my trees". In the book, Yeomans, describes the beauty of Welsh forests but also talks of the special spiritual significance that trees: especially oaks, played in ancient Celtic and Druidic traditions. We are hoping that the author of this book will deliver one of Seren Sessions for us at Between The Trees 2023. We are also planning on introducing a philosophical debate to explore the role that spiritual practices play in our lives. As a society, not only have we lost our connection to nature but we may have also lost our connection to spirituality. Are these two practices connected? and how can they help us in "the journey" of life?
An interesting contribution to previous festivals, has been the writings of Dr Matt Morgan, an intensive care clinician. In 2023, he is returning to talk about his most recent publication "One Medicine- how understanding animals can save our lives". This explores how understanding the lives of animals can help treat human disease. It combines stories of medicine, nature and travel to places including Africa and the Galapagos Islands to meet animals and patients. We see what the three vaginas in a kangaroo can teach us about human IVF and how we can better treat asthma by understanding how a giraffe breathes.
As you know, Between The Trees is a blend a lots of different types of activities and music. One regular festival attendee once said to us that he loves the festival because "its just got the right amount of everything".
At the end of every festival, Dawn and I ask ourselves "How can we match that?" But then, it just seems to happen organically. Recently, we've been booking some of our amazing headline acts for 2023 and it's so exciting to think that these phenomenal artists are going to be playing our wonderful, secret, woodland gathering.
Firstly, we have the folk legend that is Seth Lakeman headlining Friday night, then an "up and coming" electro-folk band from Scotland called Elephant Sessions on Saturday and lastly, on Sunday, the charismatic young folk singer Sam Kelly & the Lost Boys. We also have some surprises for you in the line up. On Saturday we have the singer-songwriter, Roo Panes, whose music attracts over 1.5 million Spotify listeners per month. His thought provoking songs are melodious masterpieces and his nature-inspired lyrics are profound.
Here are some of the lyrics for "Land of the Living "
"I know a land called the Land of the Living,
It's the world beyond those curtains where we learned the play
I hear the voices of my childhood singing,
It's the world beyond those doorways where we used to play
I know a land called the Land of the Living,
It's the world beyond those curtains where we learned the play
Oh, we'll go back, we'll go back to the beginning,
And we'll pickup on the trails of forgotten ways
I was born to be free … you were born to free me"
Aa well as Roo Panes, we have so many other brilliant musicians coming to Between The Trees in 2023 and we can't wait to reveal the full line up to you in the New Year.
Finally, our festival theme for 2023 is 'The Journey or Y Taith". The Seren Sessions will reflect this, with talks from authors about migration, journey and pilgrimage and the Niche Nature Sessions will focus on the wonder of migration in the natural world. We are all on a journey and hopefully during next year's journey you will stop off at Between The Trees.
Have a great Christmas. We hope you enjoy time with family and friends and make beautiful memories!
Dawn, Andrew, Meg, Alex and Bekah.